Anglers of the Heart – June 2009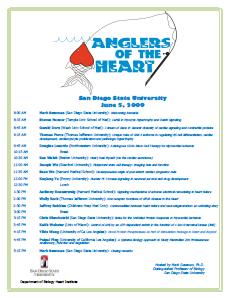 Anglers of the Heart Photo Galleries
Stems of the Heart – September 2008
The Stems of the Heart: Myocardial and Vascular Rebirth Conference was held September 18-20, 2008. The Conference took place just outside Boston during the beautiful Fall season on the East Coast.
Recent discoveries related to regeneration and repair of the myocardium using stem cells have shifted the paradigm of treatment for myocardial disease. Discoveries linking stem cell-based therapies to improvements in myocardial performance have invigorated the field, but current limitations in stem cell-based approaches present significant barriers. This symposium will concentrate upon existing challenges in stem-cell based treatment and how these may be overcome by applying the ever-evolving understanding advanced by research laboratories throughout the world.
In 2008, we focused our attention upon using novel approaches and techniques regulation of in stem cell fate determination, regeneration of cardiac myocytes and vasculature, and reprogramming stem cells to enhance regeneration. The symposium ended with a cutting edge session assessing the current state of the cardiac regenerative medicine field from a clinical perspective. This 2-1/2 day conference was designed to appeal to a broad audience of basic and translational investigators promoting interaction among participants from diverse disciplines through lectures and informal discussions.
This conference also allowed an opportunity to recognize and honor the singular contributions and achievements of Dr. Piero Anversa on the occasion of his 70th birthday. We celebrated research advances made possible by "The Professor", who established the concept of the heart as a regenerative organ, and through his research and passionate commitment has revolutionized the field of cardiac biology.
Conference Organizers

Steven Houser
Director, Cardiovascular Research Center
Temple University School of Medicine
Annarosa Leri
Associate Professor
Brigham Women's Hospital
Boston, MA
Mark Sussman
Professor of Biology
SDSU Heart Institute
San Diego State University
Maurizio C. Capogrossi
Director, Vascular Pathology Laboratory
Instituto Dermopatico dell'Immacolata
Rome, Italy
Stems of the Heart Photo Gallery
Hearts of Japan – August 2008
San Diego State University is proud to host this one-day Symposium celebrating Japanese Cardiovascular scientists and their outstanding accomplishments in the field. Our hope is that this meeting will act as a prelude to even more opportunities for fruitful national and international collaboration, and open communication between institutions in San Diego and our friends in Japan.
The research program represents a wide range of cardiovascular science spanning vasculogenesis, myocardial signaling, myocardial regeneration, and drug discovery. We are fortunate to have a program of world renowned investigators to share their findings with us on these cutting edge topics. What is particularly amazing is to learn that three of our speakers worked side by side as postdoctoral fellows in the United States under the superb mentoring of a fourth of today's guests. Our research has been influenced tremendously by reading their papers and watching their presentations over the years. Discoveries from the laboratories of these scientists have profoundly advanced cardiovascular research and we are delighted to call them colleagues and friends. Today they came to share their time, knowledge, and remarkable experiences with us.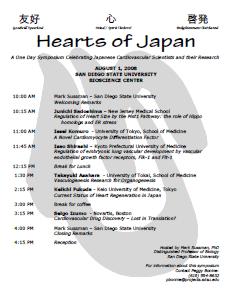 Researching Mitochondria's Role
Researching Mitochondria's Role in Preventing Damage During Heart Attacks, San Diego State Marketing and Communications – 2006.