Hearts of Japan – August 2008
San Diego State University is proud to host this one-day Symposium celebrating Japanese Cardiovascular scientists and their outstanding accomplishments in the field. Our hope is that this meeting will act as a prelude to even more opportunities for fruitful national and international collaboration, and open communication between institutions in San Diego and our friends in Japan.
The research program represents a wide range of cardiovascular science spanning vasculogenesis, myocardial signaling, myocardial regeneration, and drug discovery. We are fortunate to have a program of world renowned investigators to share their findings with us on these cutting edge topics. What is particularly amazing is to learn that three of our speakers worked side by side as postdoctoral fellows in the United States under the superb mentoring of a fourth of today's guests. Our research has been influenced tremendously by reading their papers and watching their presentations over the years. Discoveries from the laboratories of these scientists have profoundly advanced cardiovascular research and we are delighted to call them colleagues and friends. Today they came to share their time, knowledge, and remarkable experiences with us.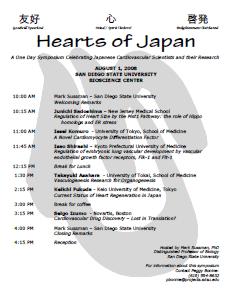 Researching Mitochondria's Role
Researching Mitochondria's Role in Preventing Damage During Heart Attacks, San Diego State Marketing and Communications – 2006.